Cultural and historical immersion in Saigon: Visit Cholon
Whenever going on a tour in a foreign country, most of the time the local Chinatown is listed in the itinerary. Chinatowns can be found in almost every major city in the world, but each has its own unique identity. One of the most interesting and distinctive of which is Cholon—the Chinese district in Ho Chi Minh City.
Known to be the busiest part of Saigon, Cholon (or spelled Cho Lon in Vietnamese) literally means "big market". It lives up to its name as it is indeed a vast Chinese mercantile center where you can find all sorts of products from daily necessities to the most exotic and unusual finds. But unlike any other Chinatown, Cholon and its people own the unique characteristic of a Chinatown that played a vital role in shaping the country's history, tourism and economy. For this, it occupies not only a large geographical portion of Ho Chi Minh City, but also a big part of discussion in books and travel about Saigon's cultural and historical development.
Located in District 5—only minutes away from the business district, planning a cultural and historical excursion in Cholon is not too difficult. A lot of travel and tours offer trip packages that include everything you need to see, discover and experience in this ancient Chinese locality.
Food and shopping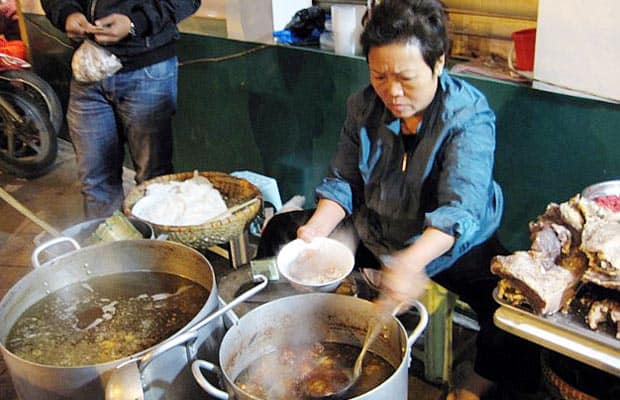 The absolute must-see in Cholon is the Binh Tay Market where you can find the widest and most impressive range of products. Haggle over the price of pistachios, live chickens, bags, watches and everything else that you can get for a good bargain.
After shopping, you can head off to the food court or to the famous food strip where you can enjoy a cheap but quality breakfast or lunch, which you can pick from the variety of dishes that locals typically enjoy. Try the vegetarian banh mi, prawn toasts, broken ice with tofu and fish sauce, chao (porridge), bun, pho, fish balls, roasted meat—anything that ignites your appetite. For refreshments, you can never go wrong with the all-time favorite iced coffee and fruit shakes.
Cholon's Pagodas
The Chinese Pagodas located in or near Cholon are extraordinary, and can be visited through a leisurely half-day walk. Most pagodas are within walking distance from each other, while two others – the Giac Lam and Giac Vien pagodas, are a little further west. Some of the most interesting pagodas in Cholon include: Thien Hau Pagoda, Nghia An Hoi Quan Pagoda, Tam Son Hoi Quan Pagoda, Quan Am Pagoda and Phuoc An Hoi Quan Pagoda.
Accommodations
One reason to start early in Cholon is that its streets get too hot by noontime, so by then you could head back to your lodging to refresh and relax. There are lots of hotels in the vicinity but the most suggested and probably the best one to complement your cultural and historical Cholon trip is the 5-Star luxury Windsor Plaza Hotel. Just like Cholon, the Windsor Plaza Hotel has made its own mark in Vietnam history – being the first and only local and privately-owned hotel that was awarded a 5-star rating. Also a cultural gateway that provides convenient access to shopping, dining and entertainment, the Windsor Plaza Hotel offers a unique hotel experience for simply being a "truly Vietnam" hotel because of its homegrown identity.
The hotel has three restaurants: Café Central An Dong, TOTT Bar & Restaurant and Ngan Dinh, which is a Chinese Restaurant that could just complete your Chinatown experience. Windsor Plaza Hotel also has a luxury spa/massage that offers just the perfect pampering and relaxation you need after an exhausting day exploring the vibrant streets of Cholon.
« The Changing Taste of Vietnam
Good Food, Good Drink, Good Times – Oktoberfest Vietnam 2011 »
Write a comment